Paragon Fit Studio
BE MORE POWERFUL, COMFORTABLE, EFFICIENT, AND FASTER THAN EVER
Get Fitted
Top reasons to get a professional bike fit:
Need for Speed
If getting that elusive PR, KOM or Podium spot is your highest priority our perfect fit system will improve your power and efficiency by optimizing the rider-bike connection.
Aches & Pains
Soreness in your neck, shoulders, back, arms, hands, legs, saddle numbness/irritation, toe numbness, and cramping are typically caused by a poor rider-bike connection - we have the knowledge and tools to fix this.
Triathlon
If you're just getting into competition you'll want to do it right! Aerodynamics, efficiency and comfort are crucial to this challenging sport - investing in a bike fit is key to your success.
New Bike
Awesome, you just got a new Road / TRI / Gravel / Mountain / Peloton / Commuter bike! Get started in the best position so you can focus on your recreation or competition.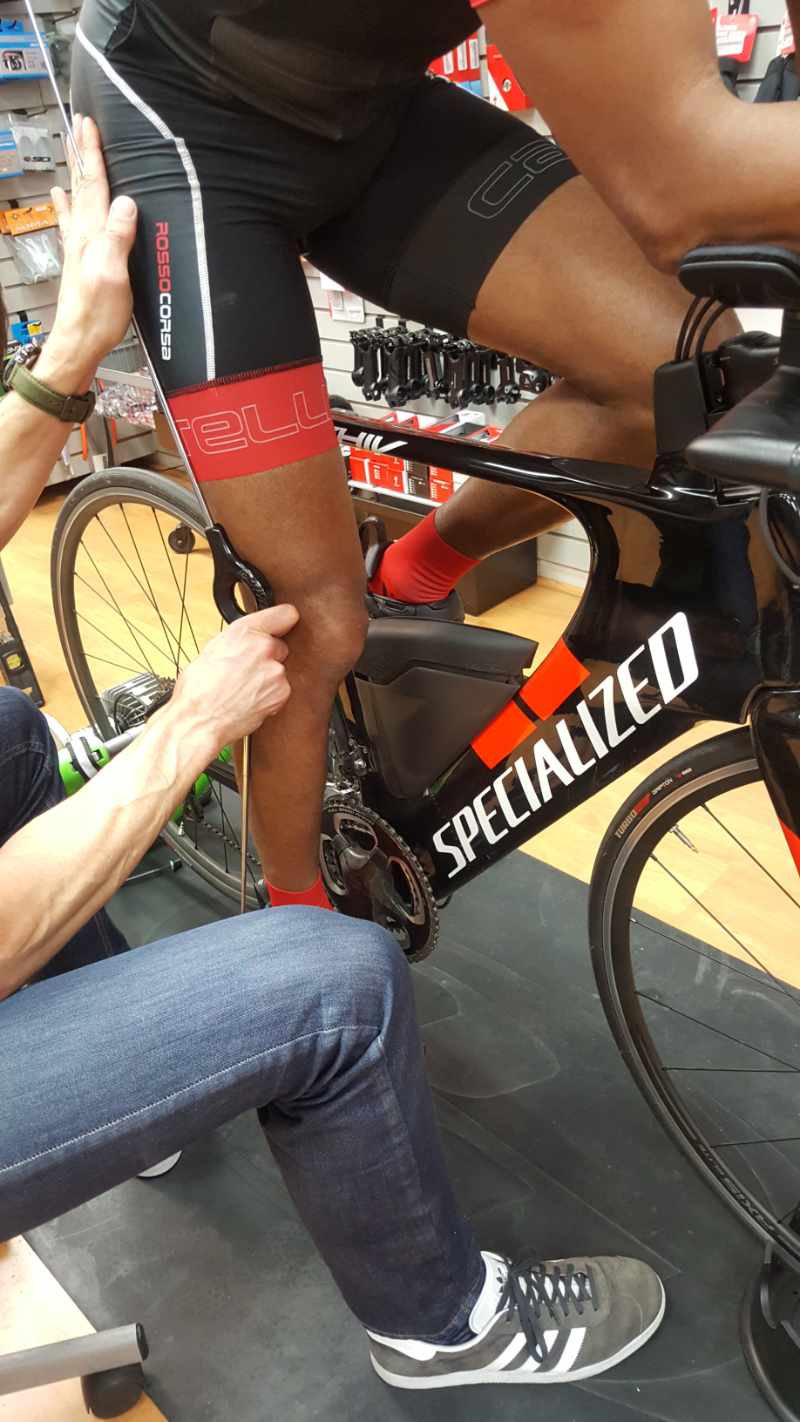 Our Bike Fit Philosophy
Comfort
Being comfortable will allow you to focus on more important matters like the adventure, increase your enjoyment with your fellow cyclists, beating your friends back to the trailhead so you can get that cold one, developing your aerobic/anaerobic capacity, pushing your VO2 Max, making up some lost time from the swim (my tri folks), and maximizing your performance on your road bike, mountain bike, or gravel bike!
Holistic Hands-On Approach
We use the Specialized Body Geometry Fit (Certified in 2013) method which consistently nets amazing results through assessment, adjustment, evaluation, and practice to optimize your bike riding position, saddle and shifter angle/height, shoe to cleats alignment(including Speedplay pedals), so we can keep you injury free and minimize any issues later down the road.
Guaranteed 100%
Once you receive our professional bike fitting, we follow up with you to make sure that you are still feeling a great bike-rider connection. We'll schedule any followups if needed to get you feeling 100% on the bike and make any changes based on your feedback.
Let's get you fitted!
Fit Services
Experienced, Hands-On, Certified Professional Bike Fitting for the San Francisco Bay Area. We provide pro bike fits for all bike brands such as: Trek, Specialized, Giant, Cannondale, Santa Cruz, BMC, Canyon using drivetrain products from Shimano, SRAM, and Campagnolo.
Body Geometry Pro Fit
For bikes of all types: road bikes, mountain bikes, gravel bikes, BMX bikes, electric bikes, triathlon bikes no matter what material your bike frame is composed of: carbon, titanium, steel, or aluminum. This pro bike fitting service is performed at our studio in San Francisco. You bring your bike and come dressed in your cycling clothes. We have all the professional bike fitting equipment needed get your bike setup perfectly for your measurements.
Pre-fit interview to determine your cycling goals, potential physical limitations caused by past injuries/surgeries and your current level of fitness.

Physical assessment and analysis for flexibility limitations as well as range of motion and imbalances such as leg length discrepancy, pelvic tilt, spinal curvature and muscular development.

Ischial tuberosity (sit bone) assessment to determine proper width saddle allowing your skeletal structure and joints to support your body weight vs. your soft tissue thus alleviating numbness and lumbar discomfort. Saddle design, height, tilt and fore-aft location optimized.

Cleat fore-aft, rotation, angle and height are based on metatarsal location and foot structure assessment to alleviate potential for foot numbness, cramping and provide support for optimum power delivery from your feet.

Handlebar width, rotation, height, fore-aft, brake/shift lever positions optimized.

Stem height/length optimized.

Professional advice on body position relative to physical assessment data and rider goals.

Full body alignment assessment done throughout adjustment process with detailed step-by-step instruction of adjustments with explanation of expected outcome based on rider physiology.

Image and video capture of rider along with detailed fit position measurements recorded which can be later used for custom frame design, and when setting up a new bike, or when traveling the numbers may be sent to your rental shop and/or tour guides to determine proper bike size and to have bikes set-up specific to your measurements.
Body Geometry Pro - Retül Fit Bike
Don't have a bike or looking for size up for a custom bike order? Utilizing the Specialized Retül Sizing Bike we will perform a full Body Geometry Pro Fit so you will know the exact specifications for your custom tri, road, track or mountain bike to order.
All the same services provided by our Body Geometry Pro fit using the Retül Sizing Bike instead of your own bike.

Manufacturers such as Enve, Bastion, and Quintana Roo offer special services which involve building a complete bike around your Fit Report. To do this, we determine the height, setback, and reach of the saddle and handlebar along with optimal crank arm length.

For Triathletes, we also determine the reach and drop of your pads and extensions.

Be confident that your bike will be built to your exact specifications.
Basic Fit
Not feeling great about your comfort on your flat pedal bike? We have a solution for city/hybrid cruiser bicycles!
We will optimize your saddle and handlebar position to provide the comfort you are looking for.

Additionally, you will receive advice on proper pedaling stroke techniques, gear selection and posture.

If we find your components are not capable of providing comfort, do not worry, we have component options to enhance your cycling experience (additional part/labor charges may apply).
Sizing - Retül Sizing Bike
In the market for a new bike but not sure where to start?
We reduce risk and save you unnecessary wasted cost by utilizing the adjustability of our Retul Sizing Bike to obtain your ideal stack and reach (frame size) range giving you the confidence to purchase from your local bike shop & online retailers.

Additionally, you will receive advice on proper pedaling techniques, gear selection, and posture.
Post-Fit Adaptation & Follow-Up Session
Reserved for current Fit Clients
Special Services
We also provide a number of special services to help you get the most out of your ride.
Cleat Fit

Saddle Fit

Foot Structure Assessment & Support

In Home Peloton Setup
Paragon Fit Studio
Testimonials
Our happy clients love how comfy we can make them feel on the bike and consistently leave us 5 star reviews!
It took me a while to finally take my bike out given crummy weather when I tried to ride and some travel, but just did 45 miles yesterday (paradise loop and some hills in Corte Madera) and WOW, what a difference. I had no back pain and arms felt great. I felt my power was a lot better (using a lot more glutes now).
Kate and I wanted to follow up with you about our time on the bikes since being fitted. I have no complaints and everything feels great. My knee pain has subsided and I feel considerably more comfortable on the bike and as thought I have a lot more power when riding. Thank you again for a great job!
Thanks again for the amazing bike fit! Easily one of the best and rewarding investments I've made on the bike. I've been riding a lot trying to find anything that feels slightly off since our fit. Nothing has stood out to me, My leg fatigue feels a lot more balanced, back pain is basically gone from what I can tell, it's amazing I can feel my toes more than 30 minutes into a ride!
Went for a quick spin today and felt great. Felt much more power from both legs working together. I could throw the bike around on flats / corners too, getting more speed. Saddle felt great also on a good climb, actually I had forgotten it was even adjusted, it was so un-noticeable that I wasn't slipping off the back! Looking forward to a few more rides on some of my regular routes and having some measurable results!
I've been wanting to reach out to you too because the new setup is AMAZING!!!! Seriously, it is SO. GOOD. I wanted to give it enough rides to be sure, but it is most definitely true. I've been on several smaller rides and then went on a 40 miler on Tuesday, and it just all feels right on. I love the extra reach and slightly up position of the handlebars, the cleat replacement is spot on, and I am falling in love with the seat.
Just a quick update - overall the bike fit has been amazing! I did a 2 short 30-min recovery rides and then the Marin Century last Saturday. Took about 20-30 miles to settle in. Initially, there was some tightness in my interior thighs and a bit more pressure on the sit bones than I was used to. But once I settled in, everything started to flow, I relaxed and felt very much at ease and comfortable. Certainly feels like I'm juicing out more watts now! Finished the ride without any weird pains or soreness!
Chief Bike Fitter
Brian Keyte
While the process is complex, the goal is not: Comfort. Over the years I've found that comfort is key allowing my clients to focus on more important matters like the adventure, enjoying the moments with your fellow cyclists, beating your friends back to the trailhead so you can get that 'cold one', developing your aerobic/anaerobic capacity, pushing your VO2 Max, making up some lost time from the swim (my tri folks). Regardless of your cycling path, I'm here to help. While I do incorporate minimal technology I find the holistic hands-on approach from Specialized Body Geometry Fit (Certified in 2013) method consistently nets amazing results for my customers through assessment, adjustment, evaluation and practice. If you're committed and care about a better cycling experience, lets make it happen together! --Happy Miles, Brian
Let's Chat About Your Bike Fitting Needs
Address (By Appointment Only)
Located at Arguello and Clement Street, also near awesome coffee and food!
7 Clement Street.
San Francisco, CA, 94118
Contacts
+1-312-919-7182
Contact Us
Send us your contact information and any questions in a message about your specific bike fitting needs.
FAQs
1
When are you available to schedule an appoinment for me to come and get my bike fitted?
You can schedule an appointment any time by booking online.
2
What if I have multiple bikes that I need to be fitted for?
We are happy to work with you to get you fitted on as many bikes as you need! Please reach out through our contact form so we can work out a custom fitting session just for you!
3
How many clients have you professionally bike fitted?
Over the past decade I have taken great care to provide the best professional bike fitting service in San Francisco to thousands of cyclists, enabling them get the most out of their enjoyment on their bikes.
4
What if I have questions or a special situation and I am not sure which bike fitting service?
We are here to discuss all of your needs any time. Feel free to reach out with your details through the contact form.
5
Important Bike Fit Facts
Professional bike fitting is recommended for cyclists of all levels, from beginner to advanced.
Professional bike fitting can help reduce the risk of injury by up to 40%.
Professional bike fitting can improve cycling performance by 10% or more.
Professional bike fitting can help cyclists ride more efficiently and comfortably.
Professional bike fitting can help cyclists save up to 10-15 watts of power.
Professional bike fitting can help cyclists ride longer distances with less fatigue.
Professional bike fitting can help cyclists achieve a more aerodynamic riding position.
6
What are the risks of not getting a professional bike fit?
The risks of not getting a professional bike fit are numerous and can be serious. First, without a proper bike fit, you may be at risk of developing chronic pain or injury. Poorly fitted bikes can cause pain in the neck, shoulders, back, and wrists due to incorrect positioning of the handlebars, seat, and pedals. This can lead to chronic pain and even permanent damage if the problem is not addressed.
All rights reserved © Paragon Fit Studio 2022 - Developed by Boon Media